20 Slideshow jQuery Plugins
jQuery has been very popular lately as developers started using it for all kinds of things. The reason why it is so popular is because it's a powerful tool which can be used to achieve lots of great features to improve the user experience.
Slideshows are also very important for the user experience, as they provide a more pleasant way for visitors to view the images posted on your website. So developers combined jQuery and slideshows and started developing slideshow jQuery plugins. There have been lots of creative ideas regarding this so the experience of viewing image galleries has improved dramatically lately.
So if you decided you need a better slideshow, then you should check our following list of plugins.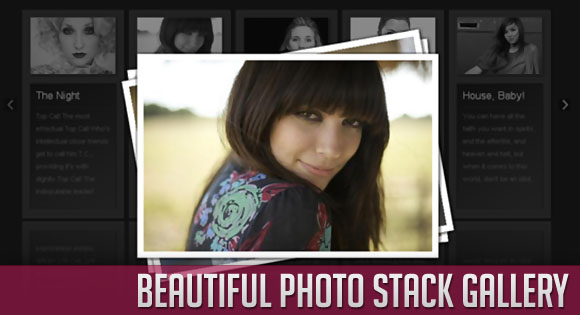 This plugin will display your albums as a slider. When the visitors chooses an album, all the photos in it will then be displayed as a nice photo stack.
If you need a flexible jQuery plugin to support no only images, but also flash, videos, iFrames, ajax or YouTube, then try prettyPhoto. It works fine in all major browsers.
This plugin is based on the lightbox image gallery. It is nice as it resizes the images, based on the size of your browser. You can also move the next and previous buttons both outside or inside of the image.
Gallerific is a sleek jQuery plugin which is great. It doesn't take much time to implement, looks nice and has lots of features.
Although like this one's name sounds like the previous one, it's actually slightly different. By using this jQuery plugin, your images will load one by one and thumbnails will be displayed when every single picture is loaded. Cool enough.
With this plugin, your images can slide vertically or horizontally, on visitors' click. It can be configured by using CSS.
MopSlider is easy to use, as there is no need for any CSS file. It can contain any item as long as you set the width and geight.
As its title suggests, this jQuery plugin will make your visitors navigate images or HTML content in a carousel style kind of widget. Although it has a very small size, it is very customizable and flexible.
This one is a very customizable jQuery image gallery plugin that will make your sliding image galleries look astonishing! They can integrate extremely well in a blog post.
Simply put, jQuery PanelGallery is a jQuery plugin that will create a slideshow of pictures by using a unique kind of transition. They will be displayed panel by panel, and you can modify the direction of transition.
Cloud Carousel is basically a 3D carousel. You can opt for auto-reflection feature will improve the user experience a little bit. It's a lightweight jQuery plugin.
This plugin will allow you to present your pictures in a pretty slideshow with attractive thumbnails. Your visitors can opt for autoplay feature.
EOGallery will create an animated slideshow containing your pictures.  When a picture is selected, it will be displayed in a larger size, which makes use of a plugin called jQuery Thickbox.
Nivo Slider somehow got really popular lately. This is because it's a great jQuery plugin which can help you easily showcase your products or services in a stylish way.
By using this plugin, your HTML content or images will be horizontally scrolled with a smooth animation during transition. Also, Step Carousel Viewer can be easily customized.
What makes Marcofolio great is that it's a full screen image slider that can be used even as a website background.
Lots of jQuery plugins have been based on this one, as it's simple, great and popular. It is an elegant plugin that will display an overlay image viewer when a picture is clicked on.
While there are so many people around the world using Flickr, it's not that bad to use a similar interface for your slideshow. This plugin can also automatically get  pictures from a Flickr photoset.
This plugin works great if you have large images that you want to showcase. It's awesome for full screen images!
Use this jQuery plugin to use panoramic views as virtual tours. This one is very useful for those who want to present a landscape, an office etc.

Incoming search terms:
slideshow jquery-3d gallery autoplay jquery-jquery slide show-diashow pirobox endlos-gallery jquery lightbox-how to create slideshow with jquery-jQuery Gallery-jquery image gallery slideshow-what is website background called on elegant themes-
About The Author
Related posts